In addition to our care instructions you find here a detailed description about how to dismantle a valve.
Needed Tools
Kleiner Schraubendreher, mittelgroßer Schraubendreher, kleiner Hammer (50g), Plastikröhre (Durchmesser etwa 3 cm, Loch min. etwa 1cm), Durchschlag (Größe der Spitze = 2mm)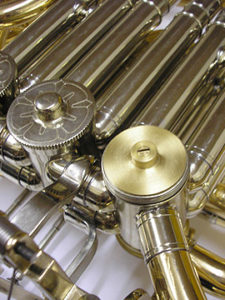 1.
Remove the valve cap on the front side of your horn.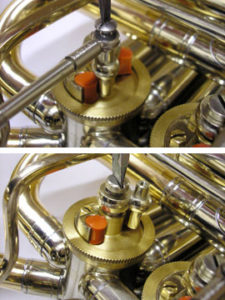 2.
Entfernen Sie dann auf der Rückseite des Ventils die Schraube der Schubstange und die Schraube des Flügels.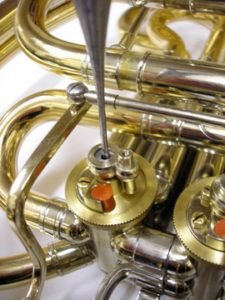 3.
Platzieren Sie den Durchschlag in das Loch in der Mitte.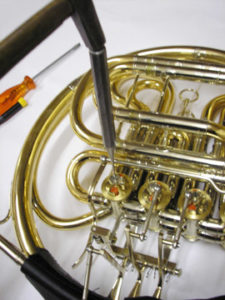 4.
Klopfen Sie vorsichtig mit dem Hammer auf den Durchschlag, dadurch wird das Lager auf der Frontseite herausgedrückt.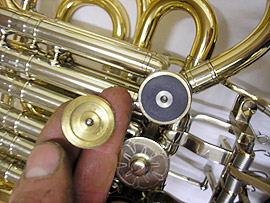 5.
Der Lagerdeckel ist entfernt (Auf den Fingern: Lagerdeckel mit Kugel). Nun ist der Rotor im Inneren des Ventils sichtbar.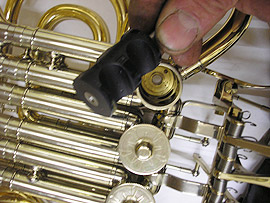 6.
Removed rotor. Clean the rotor with some cloth and oil.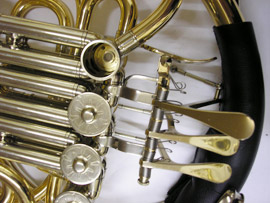 7.
Clean the casing with some cloth.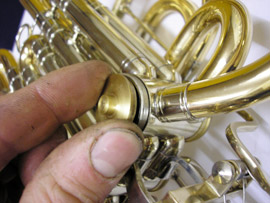 8.
Setzen Sie den Rotor wieder in das Gehäuse ein und platzieren den Lagerdeckel darauf.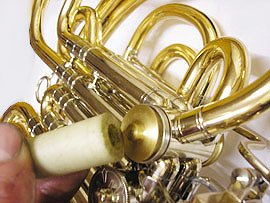 9.
Platzieren Sie die Plastikröhre so auf den Lagerdeckel, dass das herausragende Mittelteil in das Loch der Röhre passt.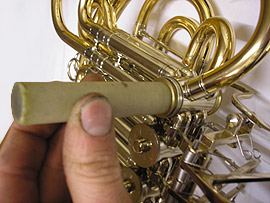 10.
Tap with the small hammer onto the plastic block. When the bearing plate is back in place, screw the valve cap back onto the casing.
11.
Test the valve if it is running free.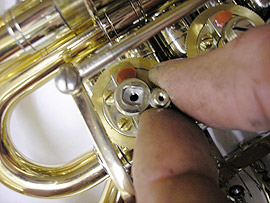 12.
Setzen Sie den Flügel wieder auf den Schaft; dies geht nur in einer einzigen Position.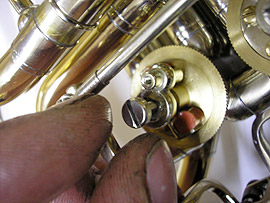 13.
Setzen Sie die Schraube auf den Schaft und ziehen sie mit dem Schraubendreher an.
14.
Schrauben Sie die Schubstange mit Hilfe des kleinen Schraubendrehers an den Flügel.