Bb single horn, model 51/52
Our B-flat horns are built in such a way that the already low weight when holding the instrument is well distributed over both arms of the player. So it can be played without getting tired. We manufacture our Bb horn with a medium scale length, but on request the horn can also be made with a medium scale or wide scale. The pushers with the mini-ball mechanism have a very short stroke. The horn is available in brass, gold brass or nickel silver.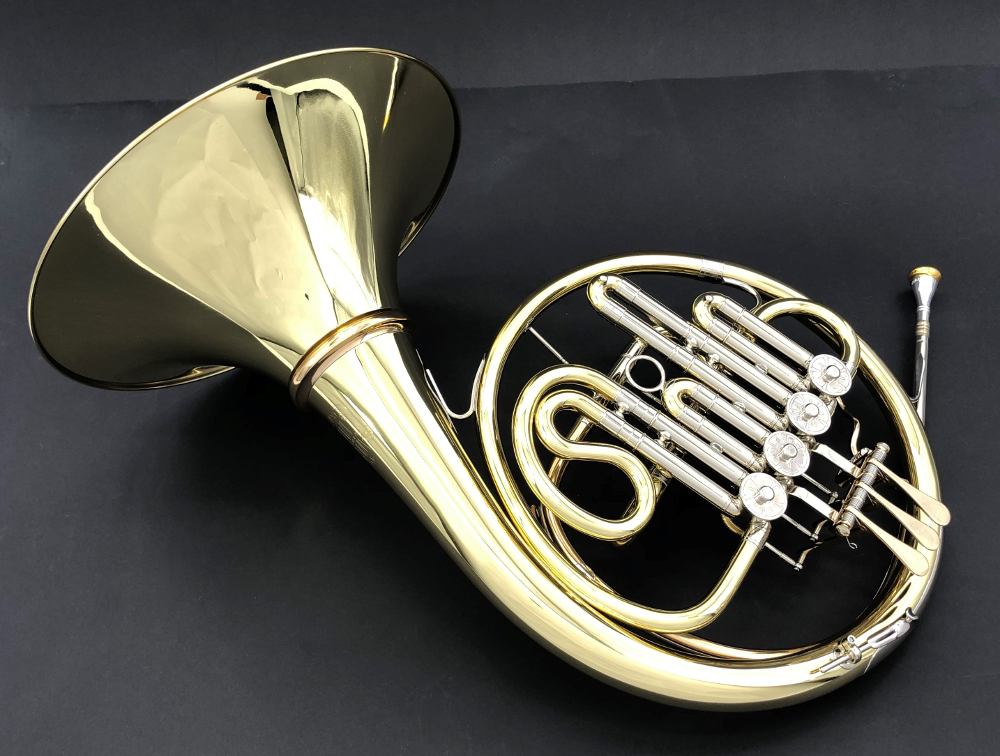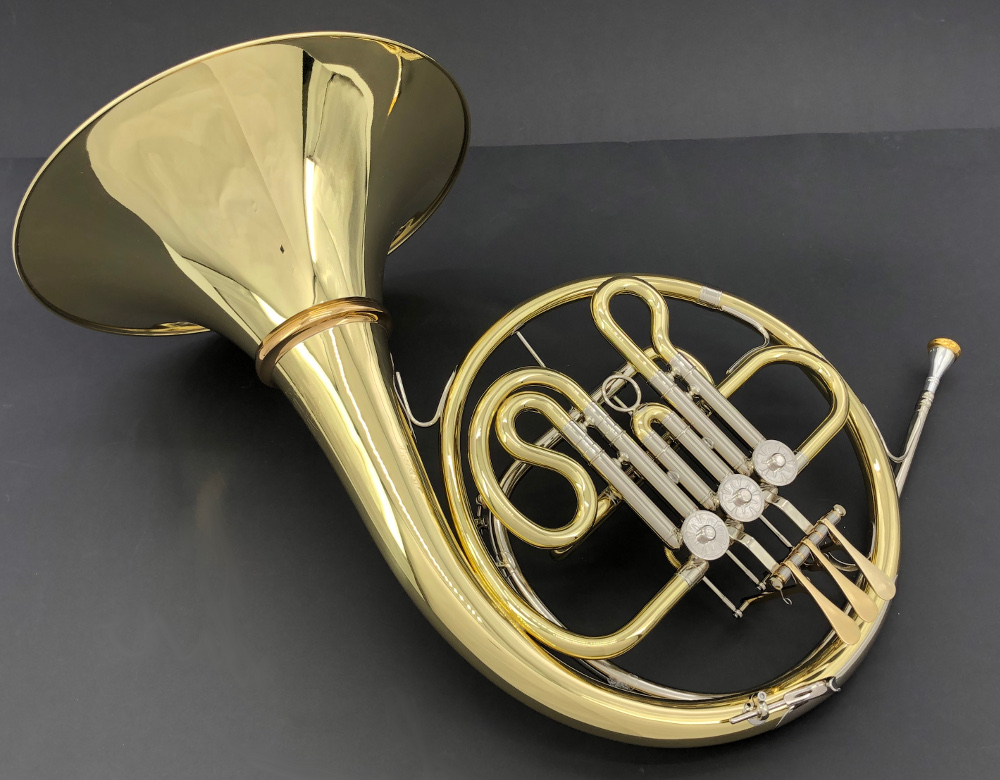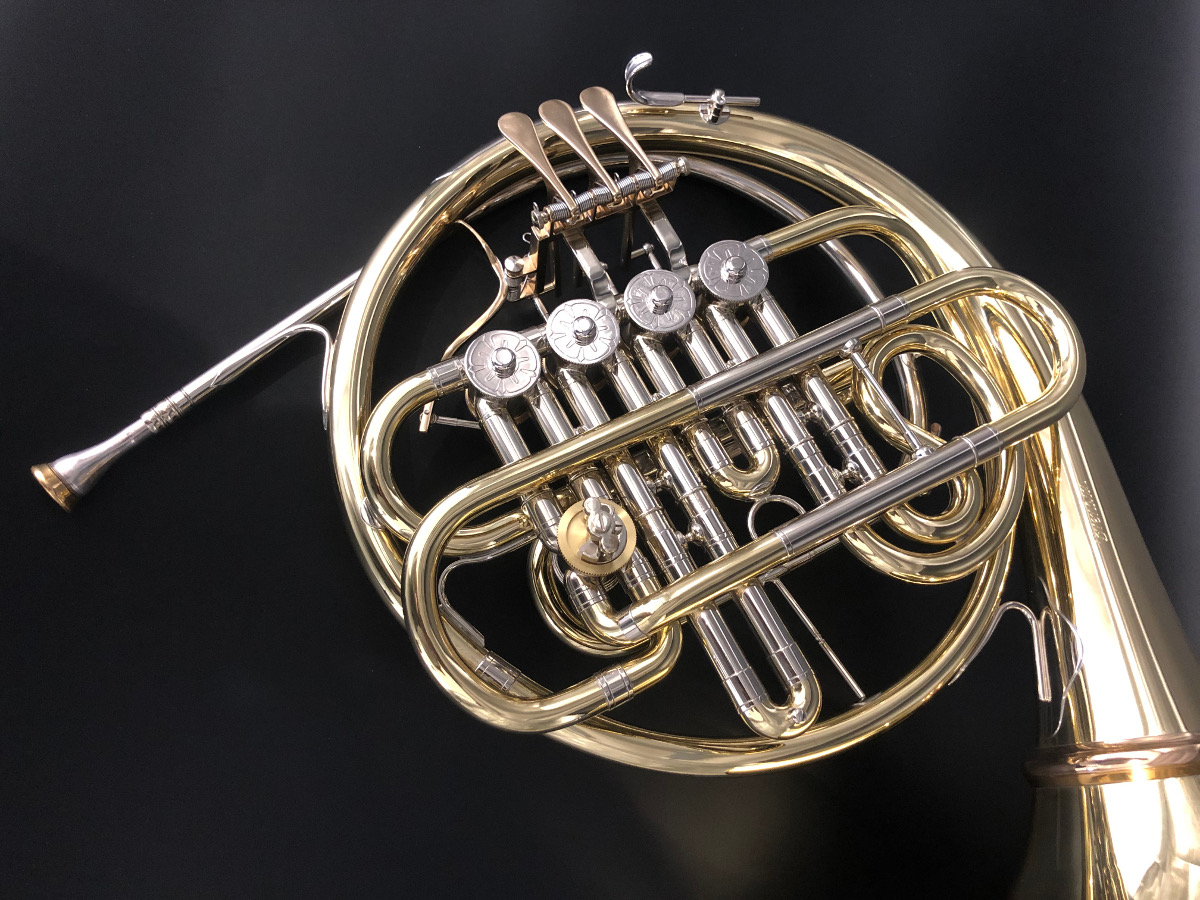 An F extension is also available for our 4-valve Bb horn, which makes the F natural tones available. This is inserted into the outer cables of the stopping valve. It has its own tuning slide as well as a control valve that can be used to switch between A-tamping and F-valve.
Our medium scale is the standard for our B-horns. A very good intonation, the warm and direct sound is ideal for solo performances as well as in an orchestra.
It has the fullest integrity of the fortissimo tone without exhibiting the roughness found in most Geyer copies. Even those who are used to a much larger scale will find the perfect balance between reaction and power here. This scale length can be combined very well with other bell sizes.
The medium-wide scale gives the instrument an even larger tone volume with an excellent load-bearing capacity in the concert hall. This scale length stays perfectly in tune and gives the instrument the dynamics of a modern orchestral horn.
Our wide scale is perhaps also our most unusual! How can an instrument with a large scale length offer the breadth of tone of the large Kruspe-style instruments while being so easy to play? The horn takes on the great American silver horns, offering the player all the power and aggressiveness he / she expects, but with the superior accuracy and carrying capacity of the tone in large concert halls.
More about this under OPTIONS. OPTIONS.
Weight without A-stopping valve

Weight with A / stopping

1700g
Yellow-Brass with A / stopping

3.450€

Gold-Brass with A / stopping

3.550€

Nickel Silver with A / stopping

3.750€

F Stellbogen Messing für Nr. 52

430€

F Stellbogen Goldmessing für Nr. 52

460€

F nickel silver setting arch for No. 52

490€
The prices listed include a leadpipe of your choice, a four-year rotor guarantee and mechanical minibal joints. Please see our price list for prices for options.